Lower costs
Successful quotes
Higher data quality
Delighted users
Less effort
per quote and shorter quote cycle - especially in combination with electronic signature.
Increased likelihood
of closing a deal thanks to quotes that are consistent in terms of content and legal validity, and visually appealing.
Automated data
in Salesforce and meaningful reports and dashboards in real time.
Ease of use
intuitive user interface, and flexibility in day-to-day sales.
NATIV
Weitreichende Möglichkeiten im Bereich der Produktkonfiguration sowie der Preis- und Rabattkalkulation vereinfachen die Nutzung.
INTUITIV
Durch einfache und komfortable Bedienung begeistern wir unsere Anwender/-innen.
FLEXIBEL
Indem wir die Möglichkeiten der Lightning-Plattform sinnvoll nutzen, ermöglichen wir individuelle Anpassungen.
VISUELL
Wir bieten eine Benutzeroberfläche, in der Änderungen sofort sichtbar und nachvollziehbar sind.
Products and services always in sight
Product configuration
Our solution helps you to quickly and conveniently select the products stored in Salesforce via groups and hierarchies. With product properties, the products can be easily configured by Sales - which is also convenient for the Salesforce administrator: because unnecessary duplicates and double data storage are a thing of the past.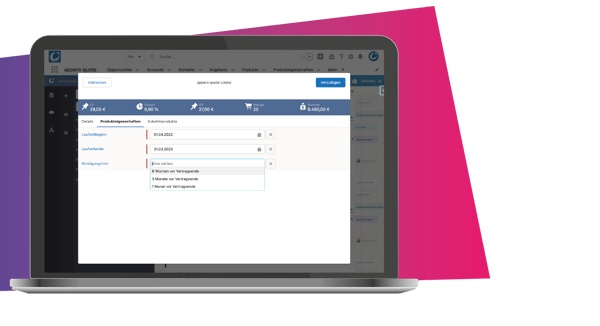 Always the right conditions
Price calculation
Even quotes that are demanding in terms of calculation can be easily mapped. Bulk prices, markups and markdowns, and price dependencies are supported among other things. Discounts at item and sum level provide the sales team with the necessary negotiating leeway if required, while price lower limits provide orientation and, in conjunction with approval processes, ensure profitability. In addition, multi-level sales structures can be mapped.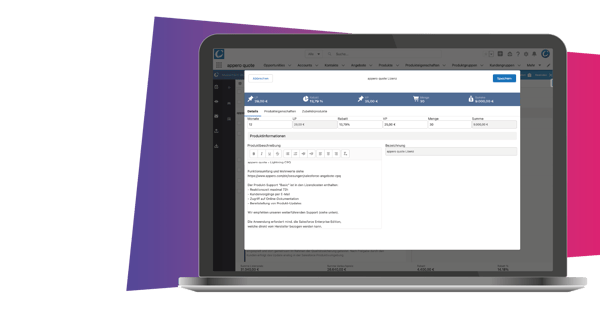 Consistent quotes with high flexibility
Quote document
With the Lightning Editor, quotes can be structured in a meaningful and appealing way. Templates, modules and variables ensure the consistency of your quotes without overly restricting sales personnel. A professional quote appearance increases the probability of closing a deal and shortens the sales cycle.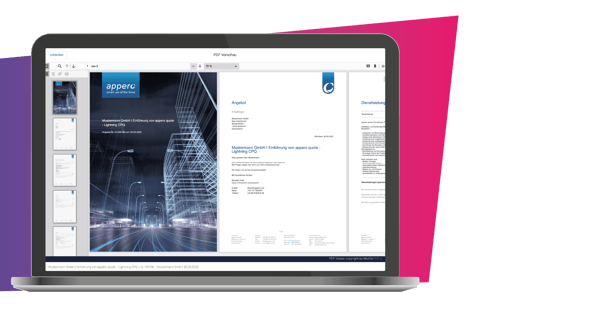 Unsere Versprechen an unsere Kunden
Weniger Aufwand
Pro Angebot und kürzere Angebotszyklus
Erfolgreiche Angebote
Einheitlich und visuell ansprechend
Verbesserte Datenqualität
Automatisierte Daten und aussagekräftige Berichte in Echtzeit
Ermutigte und zufriedene Nutzer
Hoher Bedienkomfort und intuitive Benutzeroberfläche
"
We decided on appero quote mainly because of the simplicity of the offer preparation and are more than satisfied. The project was implemented quickly and ran smoothly. We are thrilled with how quickly it is now possible to create attractive offers and are happy about our attractive design. Clear recommendation on our part
."
"
Mit dem Angebotstool sind wir sehr zufrieden, wir können verschiedenste Angebotstypen mit wenig Zeitaufwand erstellen. Auch die Arbeit mit dem Support lief bisher reibungslos. Wir können die Anwendung daher uneingeschränkt empfehlen.
"
"
Appero Quote ist für uns ein wertvolles und effizientes Angebotstool. Das Tool lässt sich sehr intuitiv bedienen und unser Vertrieb kann dank der einfachen und flexiblen Bedienweise schnell qualitativ hochwertige und CI-konforme Angebote erstellen.
Vorlagen und Bausteine können ohne Fachkenntnisse in HTML/CSS erstellt und angepasst werden.
Besonders der Support durch unseren Partner Factory42 ist sehr freundlich, kunden- und lösungsorientiert.
Appero Quote ist für uns eine absolute Empfehlung.
"
"
Die Solution ist zu 100% im System integriert und kleinere Updates sind schnell lösbar.
Guter Support und schnelle Bearbeitung.
"
"
Seit gut einem Jahr arbeiten wir nun täglich mit appero und nutzen es für simple bis hin zu sehr komplexen Angeboten. Die Möglichkeit durch wenige Klicks ein Angebot zusammenzustellen, dass früher viel Zeit in Anspruch genommen hat, ist sehr angenehm.
Insbesondere die persönliche Betreuung und das aufgebaute enge Verhältnis zu unseren Ansprechpartnern erweitert das digitale Produkt durch analoge Leistungen.
"
"
Wir sind froh uns für Appero entschieden zu haben. Funktioniert reibungslos und bei Fragen oder kleinen Problemen steht der Support jederzeit zur Verfügung. Großes Lob an das gesamte Team!
"
"Die Lösung selbst ist wirklich perfekt in Salesforce integriert. Insbesondere die Betreuung durch die appero GmbH-Ansprechpartner ist klasse!"
"
Unserer Firma www.grassgreenmedia.com ist Vermarkter für Special Interest Medien, Veranstaltung und Online-Werbung. Zu diesem Zweck haben wir ein Produkt gesucht, welches und bei der Zusammenstellung von crossmedialen Angeboten hilft und dabei leicht zu verstehen ist. Das Produkte läuft bei uns mittlerweile seit einem Jahr und wird von 8 Usern/Verkäufern eingesetzt. Insgesamt haben wir über 600 Produkte in der Preisliste und sind sowohl von der Geschwindigkeit, den Rabattierungsmöglichkeiten im Angebot (leicht anpassbar), wie auch von der Usability sehr begeistert. Ebenso wurden zahlreiche Verbesserung während unserer bisherigen Laufzeit vorgenommen, die uns bei der Produktvielfalt die wir abbilden müssen - sehr entgegenkommt."
"
Nur zu empfehlen, einfach zu nutzendes Tool und super Team, welches das onboarding und auch danach noch begleitet.
"
"
Wir nutzen appero quote jetzt schon seit mehr als 6 Jahren und sind sehr zufrieden mit der einfachen und nutzerfreundlichen Bedienung.
Angebote lassen sich sehr schnell und unkompliziert anfertigen.
Auch die Umstellung auf appero quote Lightning haben wir zusammen mit dem Team von appero erfolgreich umgesetzt.
Ein Lob auch an den appero Support. Hier stand man uns jederzeit für Fragen zu unternehmensspezifischen Einstellungen und Anpassungen zur Verfügung.
"
"
Appero Quote ist für uns das beste Angebotstool hinsichtlich Benutzerfreundlichkeit und Flexibilität. Die Möglichkeit Angebotsvorlagen zu nutzen beschleunigt die Erstellung von Angebote.
Das Support-Team ist sehr freundlich und Kundenorientiert.
Sehr zu empfehlen!
"
"
Our fast growing company is selling both services and products. These products are also often sold in packages. The people from Appero did a wonderful job in providing a SF based quotation module, that enables to do all we need. From offering default pre configured its and products, including shipping costs per product per destination.
And this all in the easy to use Appero platform.
"
Advantages in sales

Flexible

Visual
Comfortable

Fast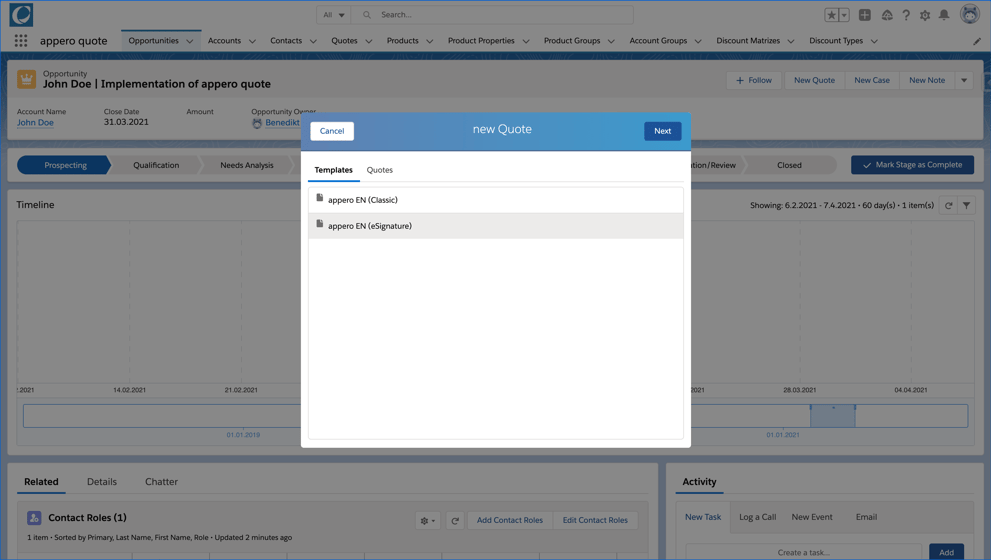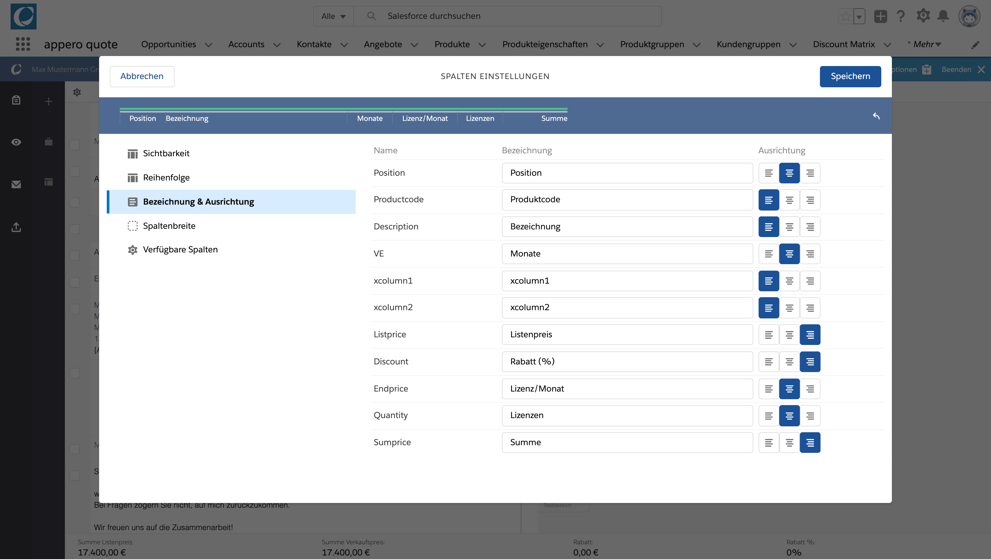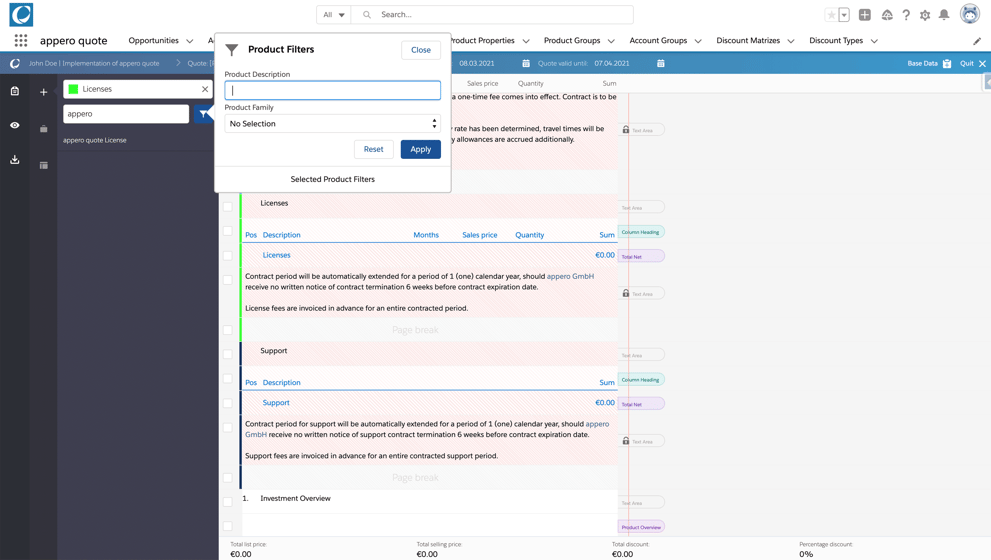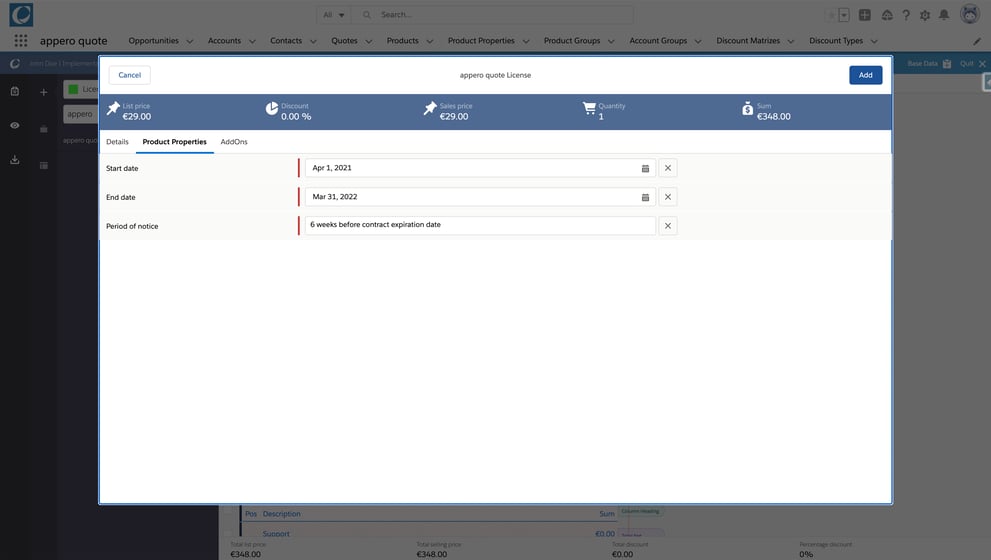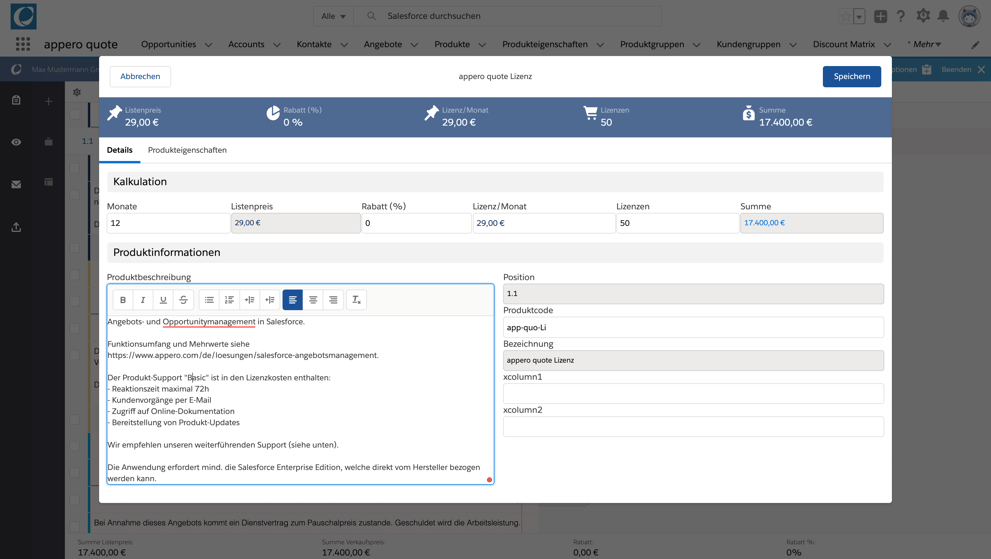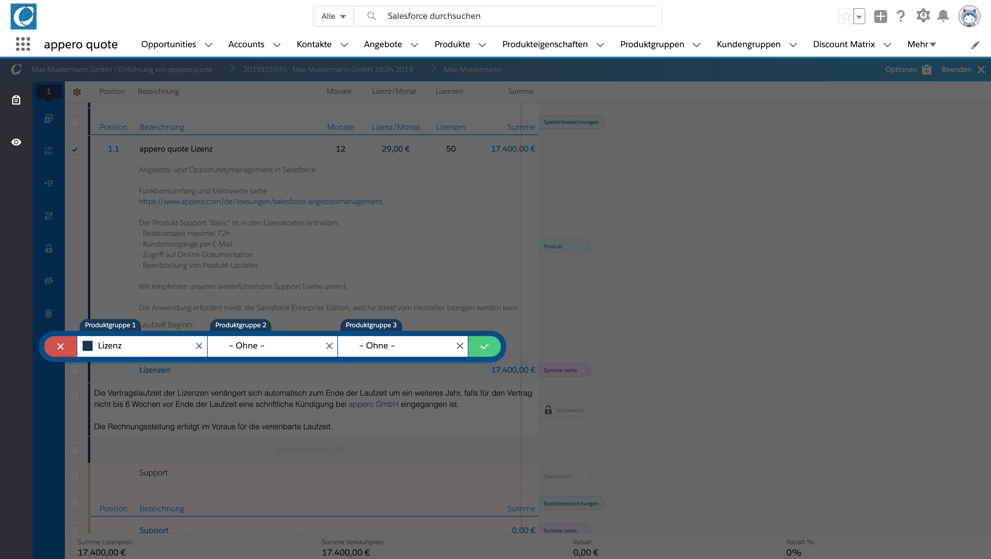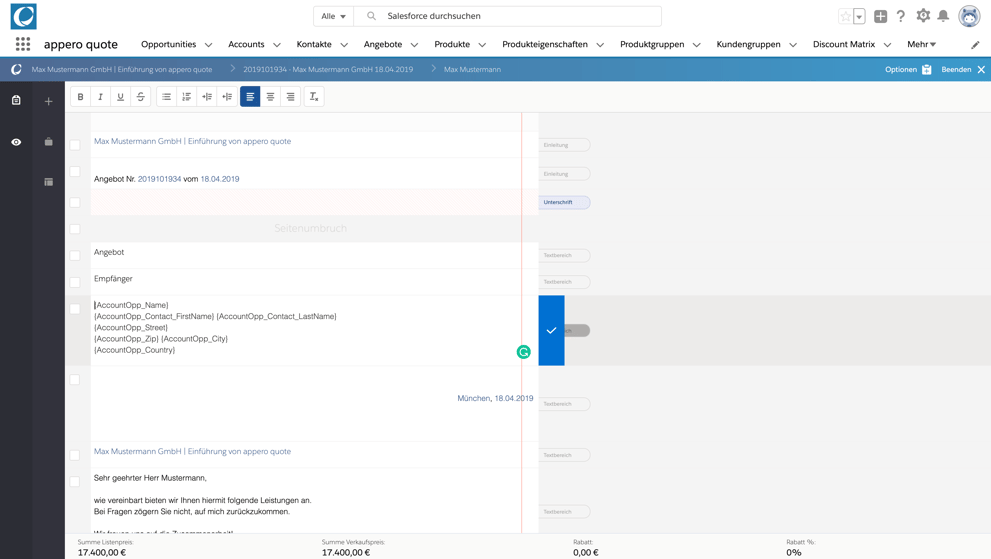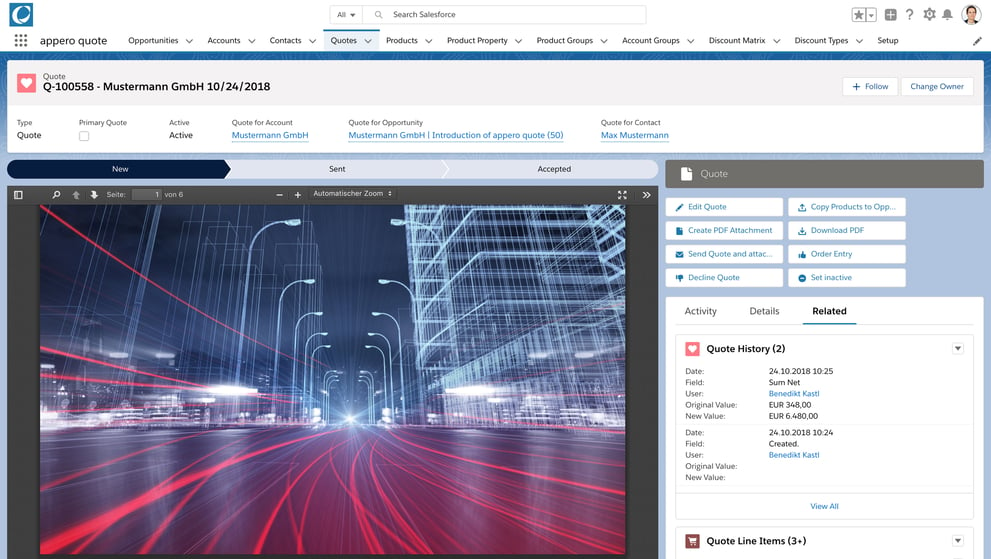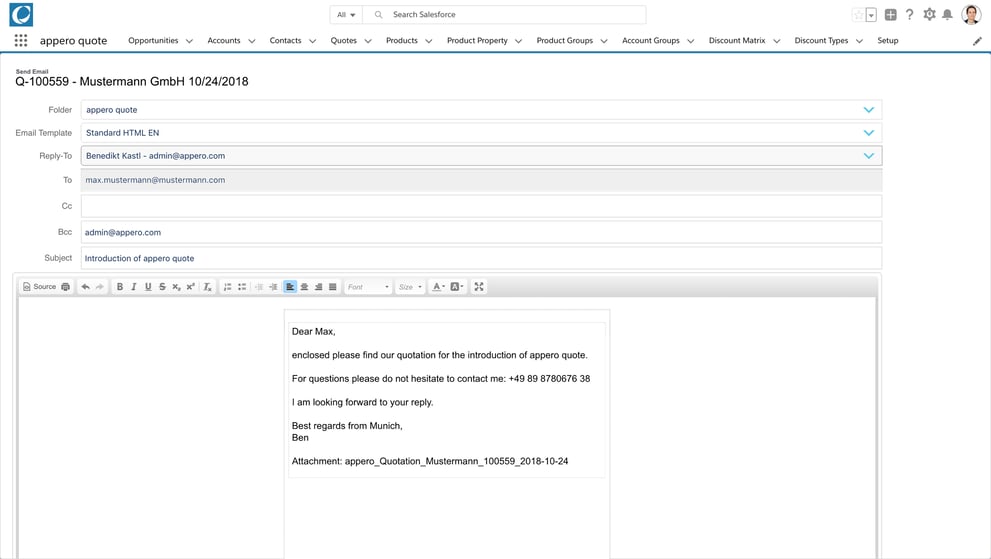 Our recommendation for publishers and marketing companies
49€ per user/month
Basic
Free of charge
Supply of new product versions
Our recommendation for manufacturers, publishers and IT service providers
Premium
25% of the license costs
Supply of new product versions